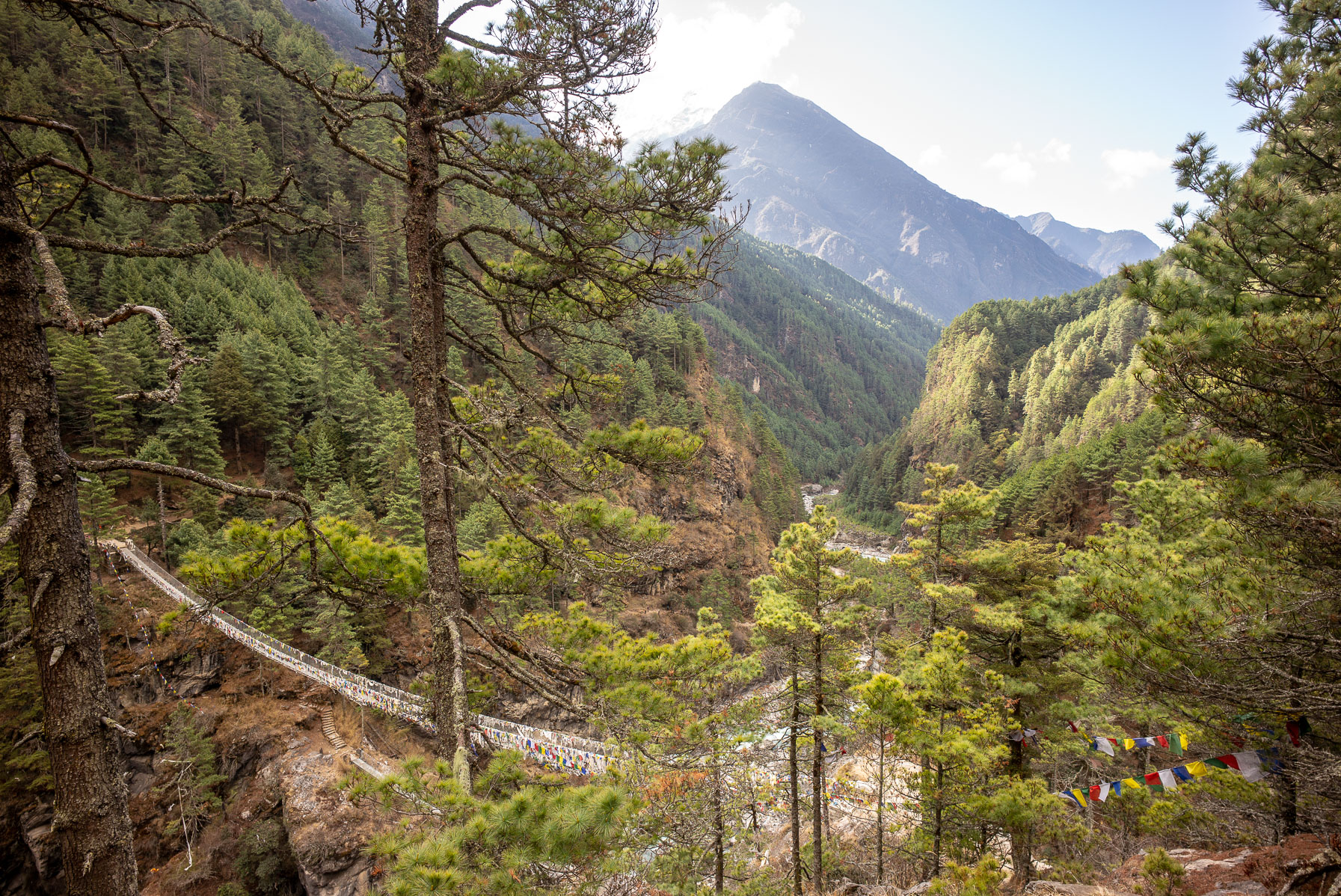 Looking south from the bottom of the descent from Namche Bazaar.The final day is here, mostly down, but really one last day of Nepalese flat!
Begin: 3,440 mtrs
End: 2,800 mtrs
Distance: 18 kms
Duration: 3 hrs
Billed as the longest day's walk, on retrospect, including the hike up and back Kala Patthar, that was the longest day. Today we will walk in one day what we took three days to do on the way up. There is some trepidation about managing the length of the walk, especially as there is a steady up-hill climb to negotiate as we wind our way up to Lukla after having descended.
Our first part is to go down the 800 mtrs from Namche Bazaar, a similar decline as what we negotiated yesterday. On our way up, this was the first "slowly, slowly" part of walk of any note, and going down for me the pace is too slow, I like "running" down hill, ok, not quite running, but at least moving quickly with the terrain, it is more energy to stop yourself than to just go with it. You have to be sure-footed though, and the pathway is anything but firm ground; full of pebbles, lose dirt and rocky ground. Just adds to the fun of it all.
It is again, just as it was on the way up, a beautiful valley once we are at the river's banks, crossing it three times as we make our way to the park entrance at Monjo. It is still quite nice and clear, but soon the clouds will roll in, not as cold now as our altitude has dropped considerably. There are many up and downs now, negotiating the various gullies formed by streams, what little flat land there is is used for crops now. Finally, it is the last hill, the "climb" back up to Lukla, the town where we began, and where I will watch the late afternoon activity at the aeroport, as helicopters come and go, the planes long gone for the day.