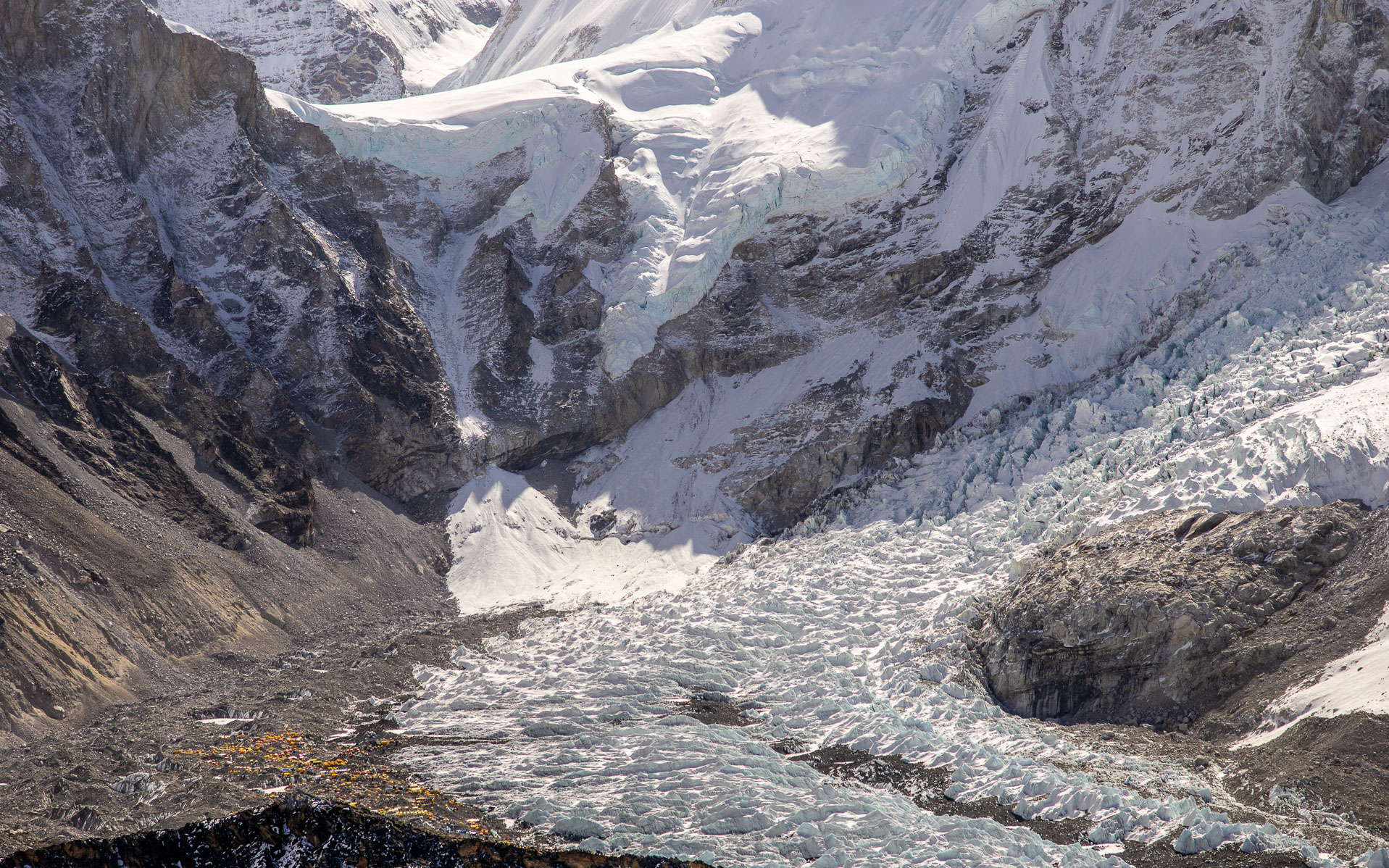 The Khumbu glacier and Everest Base Camp.

We truly reach our pinnacle today, the "hill" of Kala Patthar (black rock), a peak within the valley of the sky mountains. Then a quick jaunt down, down, down.
Begin: 5,290 mtrs
End: 4,330 mtrs, inc. Kala Patthar: 5,500 mtrs
Distance: 19 kms
Duration: 7 hrs
The walls at the hotel here are very thin, 3-ply at best. So, when groups wake at 4am to trek up to KP to catch the dawn, we are all awake. It is a restless night. We begin our hike at 6.30am, and I walk with our guide, MB. There is no way I would have made it up otherwise, well over 300mtrs at this altitude, a steep slope. Slowly, slowly, we climb. On the way up, two of the stronger walkers were done, having set off at their usual brisk pace. I encourage them to join us, not to stop, and they do, regathering their strength as we tackle the hill, and by the top there are back to their usual jolly selves, enjoying the morning view. About a half of the group have not made the attempt, but will head to Dingboche after breakfast.
And here we are, on a peak in the middle of a vast valley ringed by snow-capped mountains. The view itself, looking at peaks that are 1,000mtrs and more above where we stand would be stunning at any altitude. To realise we are standing already at 5,500 mtrs above sea-level is to comprehend just how massive the Himalaya mountains are. The weather is clear, bright, blue skies, with the sun just emerging over the eastern peaks as we ascend. We had not tried to get here for dawn, for it occurs hidden by 2,000 mtrs of peaks!, so you don't see much with those in shadow. We are looking down at EBC in the distance, and across at part of the ice-fall of the Khumbu glacier that is the first major slope to traverse for the climbers.
Ascending here is a delight, I love going down hill, so I just let the hill take me, almost jumping from stone to stone, like a mountain goat; it is more effort to try to slow your descent than to "be sensible" about it. I almost feel like screaming, like shouting for the sheer exhilaration, the joy, the abandon of having done this, and taking in the extraordinary geography that surrounds us. Breakfast/Lunch back to Gorak Shep is a slight affair, it is all too much to be bothered with eating really.
It is about 4kms up and back, and with time spent at the summit, about 3 hrs. For part 2, we have nearly 16kms to Dingboche and it will take us about 4 hrs. We have come down from the heights over 1,000 mtrs. As in the way up, parts of this walk are breathtakingly beautiful, and walking down, the pace is brisk, but still the energy is conserved and when we arrive I do not feel spent. It is still sunny, but as the day grows long, it becomes windy, overcast, and quite cold, basically 0 deg. We are back in Dingboche by 2.40pm, time enough for a coffee at the local Illy café!, the French Bakery. I think I might have had some chocolate cake too :-)