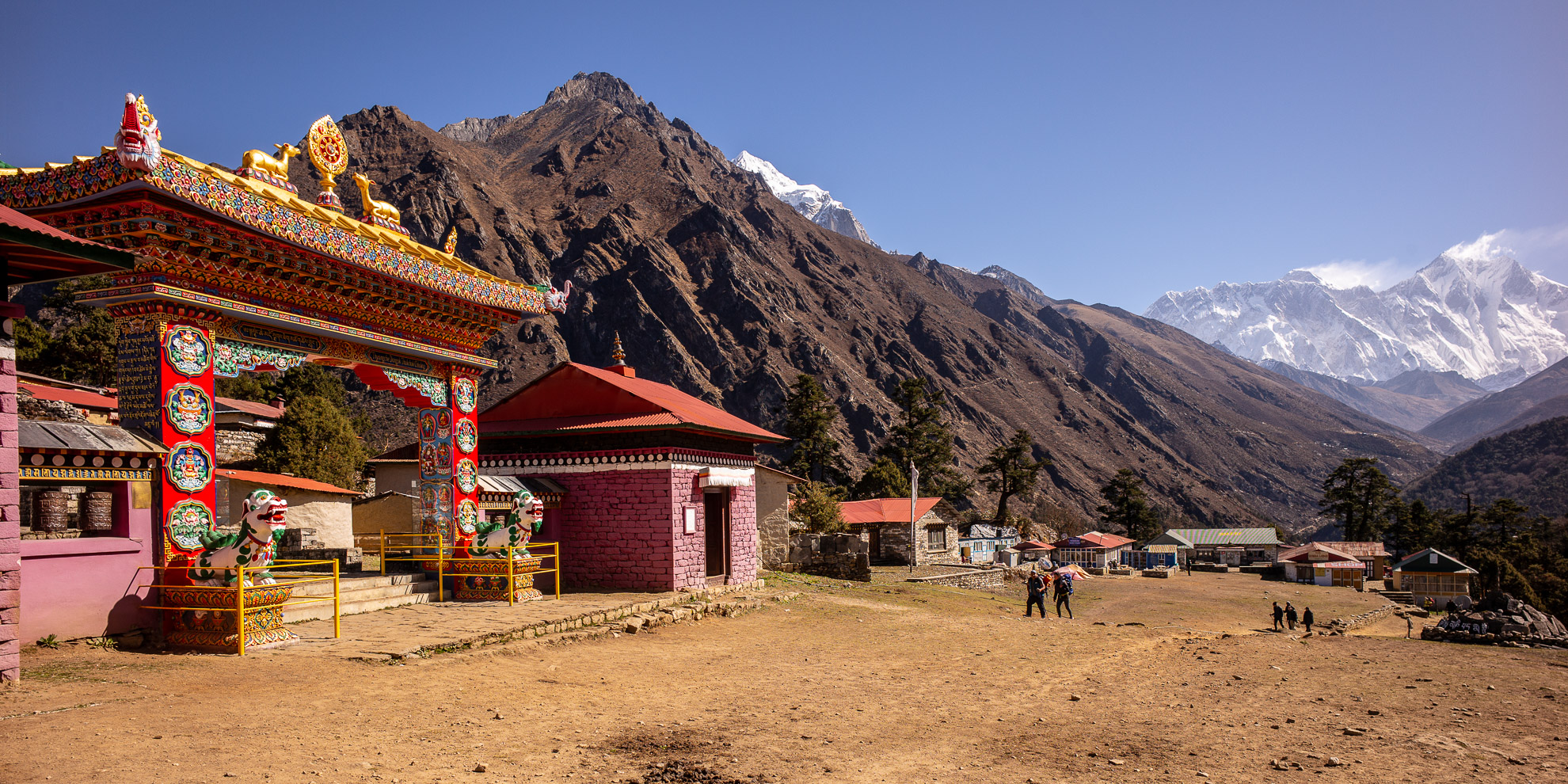 Tengboche Monastery, its entrance, with the prayer wheel enclosures on either side.
The morning sparkling, a clear day to hike Namche Bazaar a short step away.
Begin: 3,770 mtrs
End: 3,440 mtrs
Distance: 10 kms
Duration: 3 hrs
At first, a final and quick visit to Tengboche Monastery as it sits on top of the pass that we go through. The view from the ridge in the clear light of morning is stunning, looking down about 700mtrs that we must traverse, before rising again to skirt the plateau on our way to Namche Bazaar. It is the same walk as we had done on the way up, and again it will be done in a short period of time. In a way it is strange, we could have probably managed to walk from Dingboche to Namche Bazaar in a day, and yet I find myself lingering, in my notes and on the path, trying to grab the moments, not wanting the trip to end. A day or more in Dingboche, some time to do day walks in the region, would have been lovely, it is a spectacular area, and with the monastery here at Tengboche, it also feels like an area to spend a bit of time in. But this is the pace of our lives now, we go somewhere, and once achieved, it is a quick way back to move on, to the next "big thing".
The afternoons are problematic, it is night and day between the mornings, so clear, sunny, bright and even warm (well, lets say cool), against the dank, cold, overcast, gloomy afternoons as the clouds close in, presaging the coming monsoon that will soon inundate the area with rain and snow. Arriving at Namche Bazaar, walking around the town, going to visit the Sherpa museum with its history of the local people and their contribution to the various expeditions to "conquer the mountains". I begin to appreciate my own achievement, and to understand just how much that depended on the good will and efforts of others; all I had to do was put one foot in front of the other, slowly, slowly!!