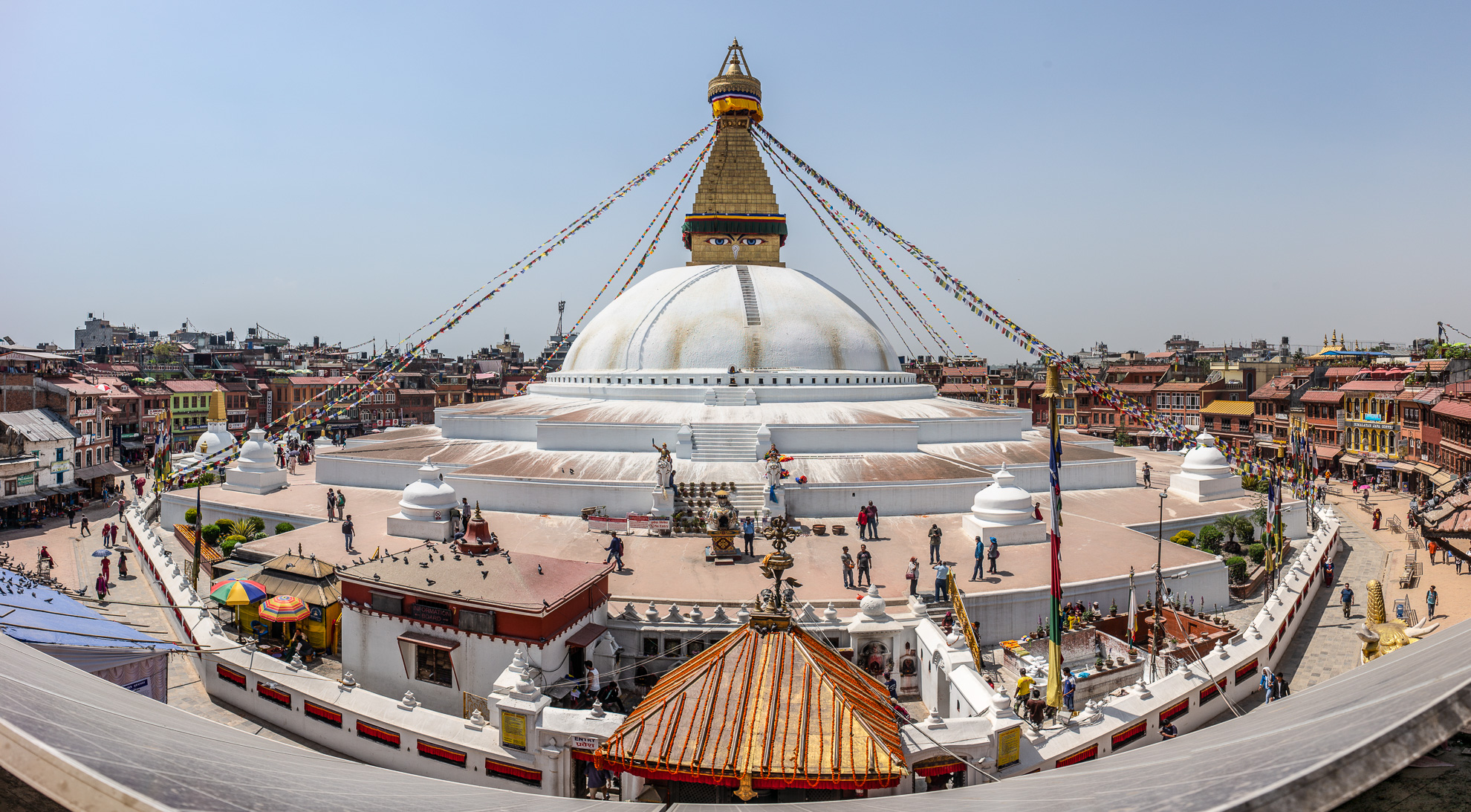 Kathmandu's Stupa Swayambhunath

Our trip began here, and in the morning after our trek finished in Lukla, we fly back, a day to fill before the group disbands. I came here for a short while many years ago; my memories of it then was a place of narrow streets, cobble stones, strange temples full of mystery and the unknown.
My impressions now are entirely different; a city struggling under the compounding pressures of too many people, too many cars, too much pollution, too little infrastructure, and the ever-present dust of the Himalayas. Still, for moments, the Monkey Temple, the Stupa Swayambhunath, radiant, one of the few pilgrimage sites of Buddhism. The traffic will easily knock you over, as everyone bustles to get around the slow ones; it is no different than countless cities in "the developing world". Where, previously, everything had an aura of a tumbled-down neglect of poetic dimensions, a willed, time-defined, decay; now it appears just to be the product of poverty and neglect, in need of care, happening in places, but not enough. Like much of the world now, the magic of a time-worn place is overlaid with the greed of an expanding, hungry, un-satiated population of too many for too little, and as we recover more of our history, it crumbles away a victim both to the ravages of time and neglect. Of course, this is just the tricks of memory, the idealism and romanticism of youth replaced with the cynicism of age, but old eyes see what young eyes gloss over.
At our treks end, we gathered as a group, the walkers, the guides, the porters. Each porter would carry 3 bags, say around 50kgs over the same terrain we walked. Always they were there before we were, our bags ready to be unpacked, lunch or afternoon-tea not far away. Even our kitchen would be transported from camp to camp. The young men who carried our gear were from a different region than where we finished in Lukla. Ours was the last expedition of the season, so while a couple would stay to trod again the paths we took, to pack up and bus out the camps we used, others would return home; a two or more day walk, and at their pace.
Everything you see in these pictures from days gone by, has been carried in, mostly by men, sometimes by women, sometimes by ass or yak. Some would be helicoptered in to a nearby pad, then bussed down. This is all the buildings, all the wood, the corrugated tin, the bricks, the glass. There are no delivery trucks. The cappuccino machines, the food, the water, billiard tables, the beer kegs, the lot. It is hard to comprehend, not just the infrastructure of buildings, but the daily logistics of food, of clothing, and on and on. Mostly, cartage, as I hope the photos show, are done by humans; they are their own pack animals. Helicoptering is expensive, far more than a human porter. There are no airports to land planes in these towns, themselves few and far between, no roads for delivery trucks, just paths for feet. And so, if someone asks $xx for something, I pay it, as long as it seems fair to me. A room, clean dry and warm, for $10/night seems entirely reasonable and beyond the price any "of us" should haggle. It is the least I can do, and I can't understand young, well-to-do backpackers bargaining these prices down to $5/night, when they are bargaining the price of a "latte" over the cost of a room for a night, with no comprehension of the costs for the locals to provide our "creature comforts". It is always difficult, traveling in poorer countries to confront the disparity of cost and incomes between my world and theirs, to understand what is fair, what is a rip-off, and to understand that a local price for local people is a completely different economy and transaction than a "tourist" price; a price that we have no right to access. It is the least you can do, to repay the kindness, the effort, that goes into making a journey like mine a simple matter of a few days walk amongst some of the world's most extraordinary landscapes.