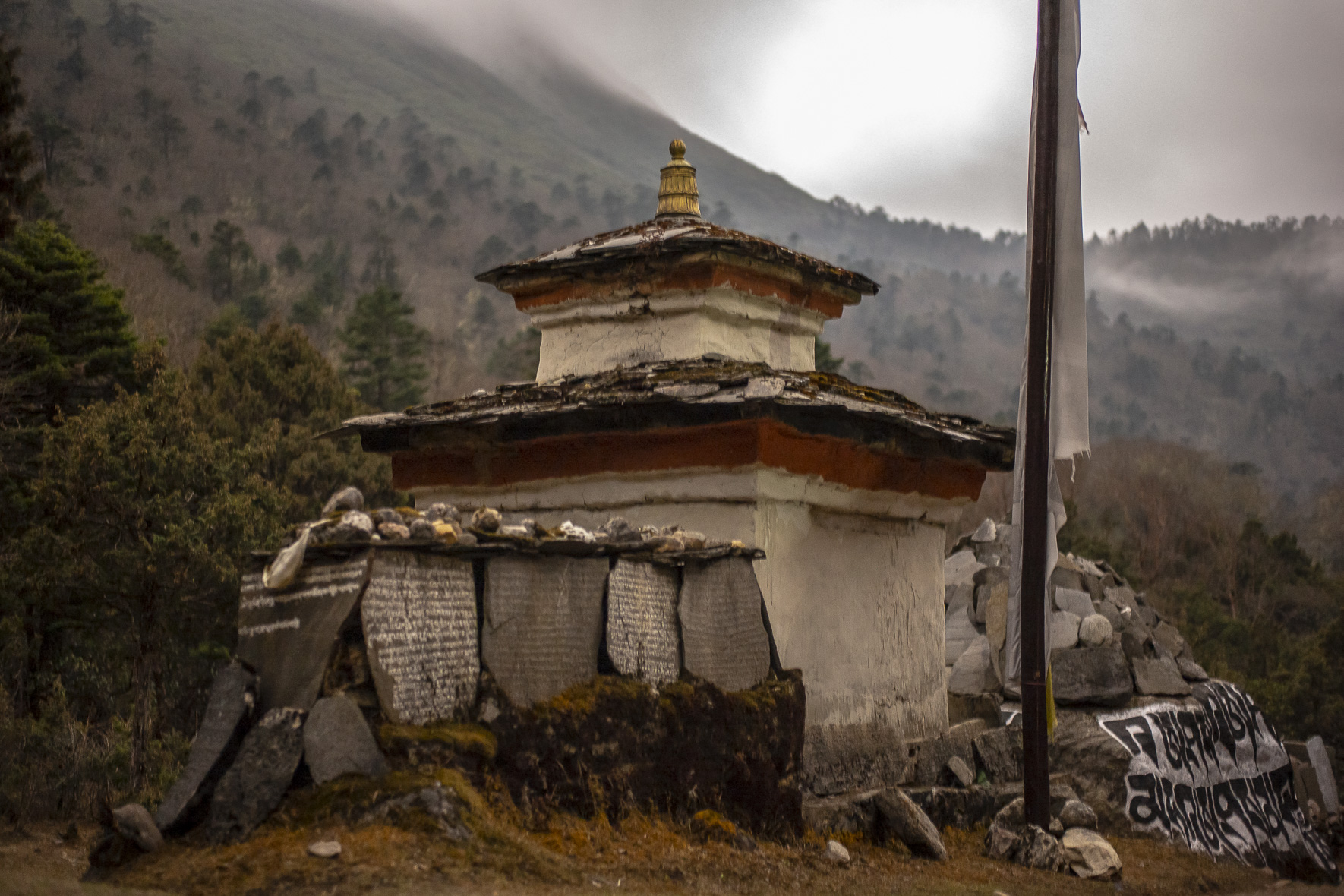 A stupa on the path at Dengboche, photo taken under moonlight around 3am

A first real experience of "Nepal Flat"… for today we only gain a little bit of altitude; we end up climbing over 1,000 mtrs and descending over 700 mtrs. It is a glorious days walking through wooded land and steep valleys, rhododendron and pine tree forests.
Begin: 3,440 mtrs
End: 3,770 mtrs
Distance: 12kms
Duration: 6hrs
We pass small monasteries and stupas, with pictures of the Dalai Lama and other Tibetan figures of note, feeling like we are actually in Tibet. The Sherpa people originally came from Tibet, fleeing persecution about 500 years ago. The route that we walk was an old trade route, so some livelihood was possible catering for the trading caravans. The hospitality and friendliness of the people is quite marked.
We have good clear views, as the morning is clear and bright sun, and in the distance we see Everest for the first time on the trail. The pace we walk is deliberate, slow but within the demands of the terrain, with our pace varying as we go up and down, but again that sense of an even energy expenditure. We always pass the stupas on the left, and the walk takes on a sort of meditative frame of mind; it is very easy to get lost in the body's gentle rhythm, with the vast vistas around us, and trail that requires attention to detail.
We crest the highest point of the day's walk, the village and monastery of Thyangboche. The monastery is very well preserved, restored by Edmund Hillary after a fire here in 1989. We are here in the afternoon, the clouds have rolled in, it is cold, dank, but on return visits in the morning sunshine the location and buildings are effervescent.