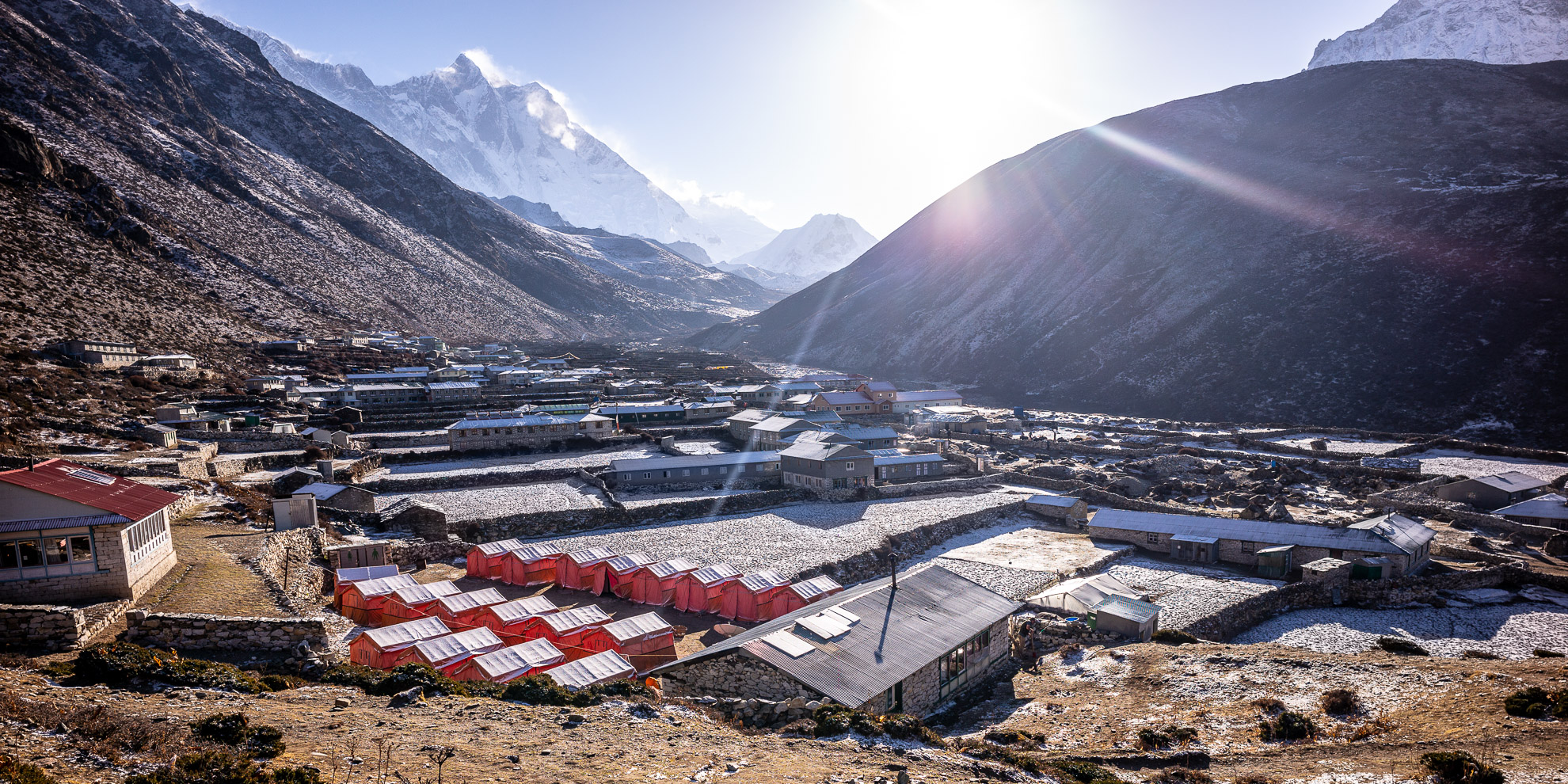 Dingboche, early morning with a dusting of snow.

It is much easier to do this going down, than it was going up, and its nice to be amongst trees again.
Begin: 4,330 mtrs
End: 3,770 mtrs
Distance: 10 kms
Duration: 3 hrs
There is a "condition" here, called Khumbu cough. There is so much fine dust in the region, from the relentless grinding of ice, of glaciers, of water, that just gets into your sinuses, your throat, and a persistent cough begins. Yesterday was the longest day of our trek, not only had we reached the highest altitude, but we had then gone on a seeming mad rush to return to Dingboche, an altitude drop over 1,000 mtrs. With the Khumbu cough starting to catch hold, it was time for a "tiger balm" steaming – just like when we had a cold as kids, head over a steaming pot of water laced with the pungent balm. It clears the head, and a good night's sleep was had; the first for many days. I am more than glad, despite the length of the trek to have returned here; Dingboche is quite a lovely spot, despite first impressions of a gloomy, cold, dank place. The scenery within which it sits is breathtaking, far too much to absorb in a day or two.
Our walk is back to the same place we stayed in on the way up, except this time we go down, not up, so it should be an easy stroll! I am pretty tired to be honest, not really quite with it. We set off from camp, to go a different way, following the Imja Kohla River to Panboche, where on our way up we had gone up across a plateau, here we are straight down. It is stunning scenery, walking within the gorge carved by the river.
Oh Crap!!! As I reach for my phone to take a snap, I realise, I've left the bloody thing in camp. We've only been gone about 20mins, but still… I discuss this with the guides, I know exactly where it is, so they decide one will go back, I'll wait with the other and the group will continue on. So, Fooba heads back, Siball and I wait. He's back in half an hour, triumphantly waving my frickin' phone as he rounds the corner! At least it was where I thought it was, so not entirely wasted time and effort. Stupid bloody thing, half the time I hate the sense of having to check it for messages, for updates, etc, but I do like listening to music! We now do a sprint walk down to catch up with the rest of the team, and I have to say I enjoy that, its quite a challenge to be almost jogging for quite a while, keeping a brisk pace, using the slopes to propel us forward. What fun!!!!
There are lots of evidence of rock-slides, of avalanches, many recent from the earthquake of 2015. As you see the vast slides of rocks, some appreciation of the magnitude and the area that this covered conveys itself to you. Still, hard to take in.
We get to Panboche, I don't think it was too long after the main group had arrived. Its a short day of walking anyway, so its not like anyone has anything to do when we get there!, which at this point is only another hour away, and we will be done by lunch time. Still, I feel like a twirp, I mean, really…
As we approached Panboche, the trees start again, and after we are back in amongst them, in forests again all the way to Debouche.
After lunch, a trip up to Tengobche Monastery. It is quiet, still, and I meditate in the temple, for what I had thought was only a few minutes was actually close to an hour, which included the entrance and chants of a monk for quite a while. It was very peaceful, quiet. In the houses of the prayer wheels that stand either side of the monastery gate, the walls are covered with erotic art, as is some of the art in the temple proper, some subtle, some not-so. Is this art to depict the sordid nature of desire? A symbolic representation of universal principles? If its not a celebration, an acknowledgement of the erotic, of physical desire and sexuality, then why is it? It is certainly not in the camp of denial that characterises Christianity and Islamic attitudes to sex and physicality, and yet Buddhism is a religion that supposes a renunciation of physicality.