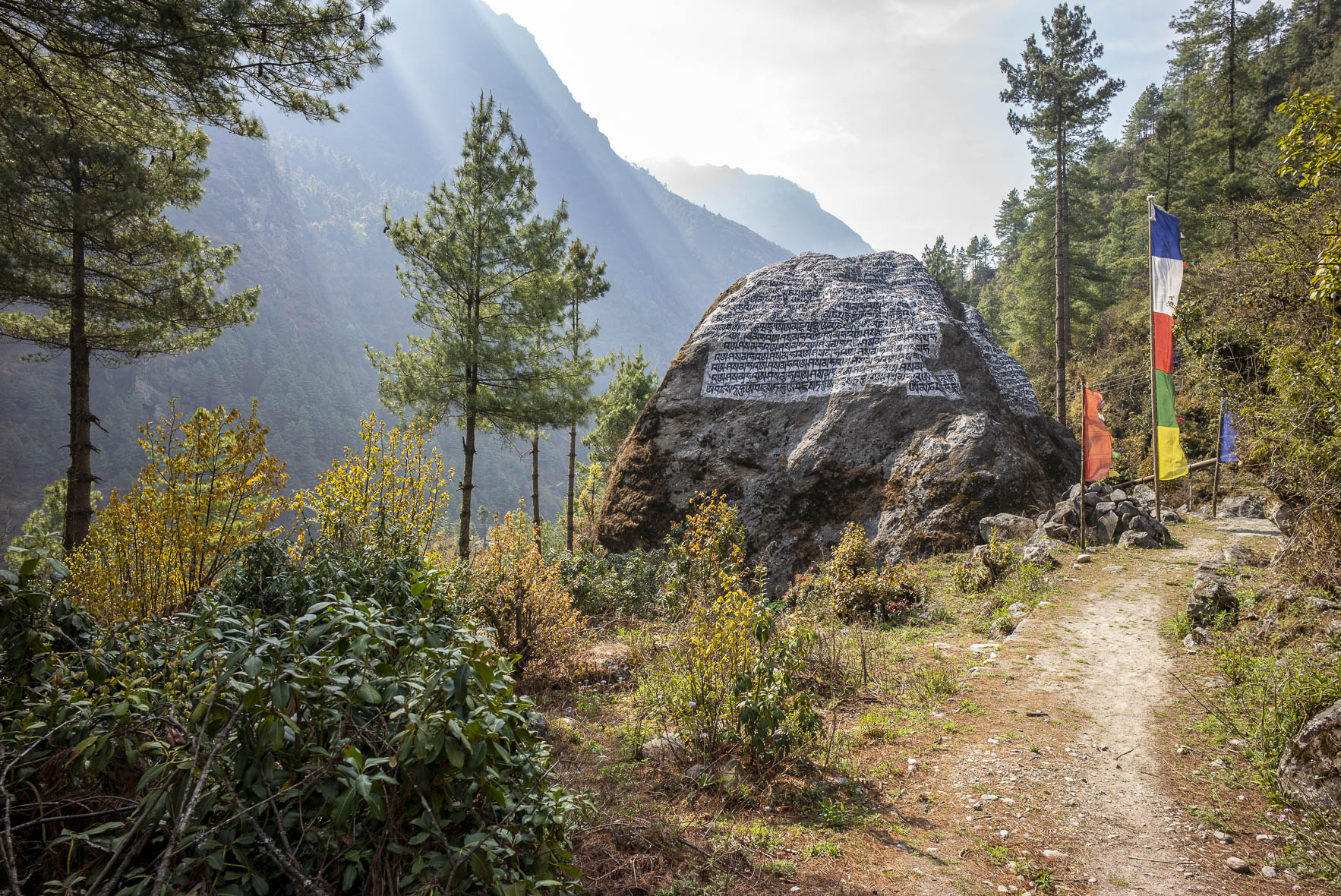 The second day begins with a walk off the main path, which is busy, busy, busy with so many porters, yaks, and more and so we head off over the other side of the river into the forest and a hiking path rather than a "road".
Begin: 2,530 mtrs
End: 2,850 mtrs
Distance: 8kms
Duration: 4hrs
There are a lot of ups and downs, and we are starting to discover the idea of a "Nepalese Flat" terrain. The hike is quite beautiful, through a mixed forest, some Rhododendron trees, some Pines. We pass a rock, carved with the most fundamental of Buddhist mantra: "Om mani padme hum" – particularly associated with the four-armed Shadakshari form of Avalokiteshvara, the bodhisattva of compassion, and of Tibetan origin. We start to have an inkling as we venture further into the region that these are a people of Tibetan influence, and indeed origin.
Sherpa is actually the name of the people here, it does not mean "to carry huge loads on your back", that's what "porter" means. The usages comes about because the Sherpa people deal with their environment, and their need to transport everything and anything from place to place basically by carrying it themselves. Pack animals are relatively rarely used, and seeing some of the terrain that we will traverse during this trek, you can appreciate just how adaptable and easily humans are able to deal with this most difficult terrain, especially with loads, with the climate. Needless to say, carrying these enormous loads, must and does exact a toll on these people.
As we walk further in the day, we come across school kids, themselves hiking up these slopes from the village to the school, bags in hand, dealing with the terrain as if it is an everyday, normal occurrence. Ah! wait… it is, it is us "trekkers" that see this as so difficult and new.
We get to Monjo, and there is a good coffee to be had!, enjoyed in the dank, overcast afternoon.