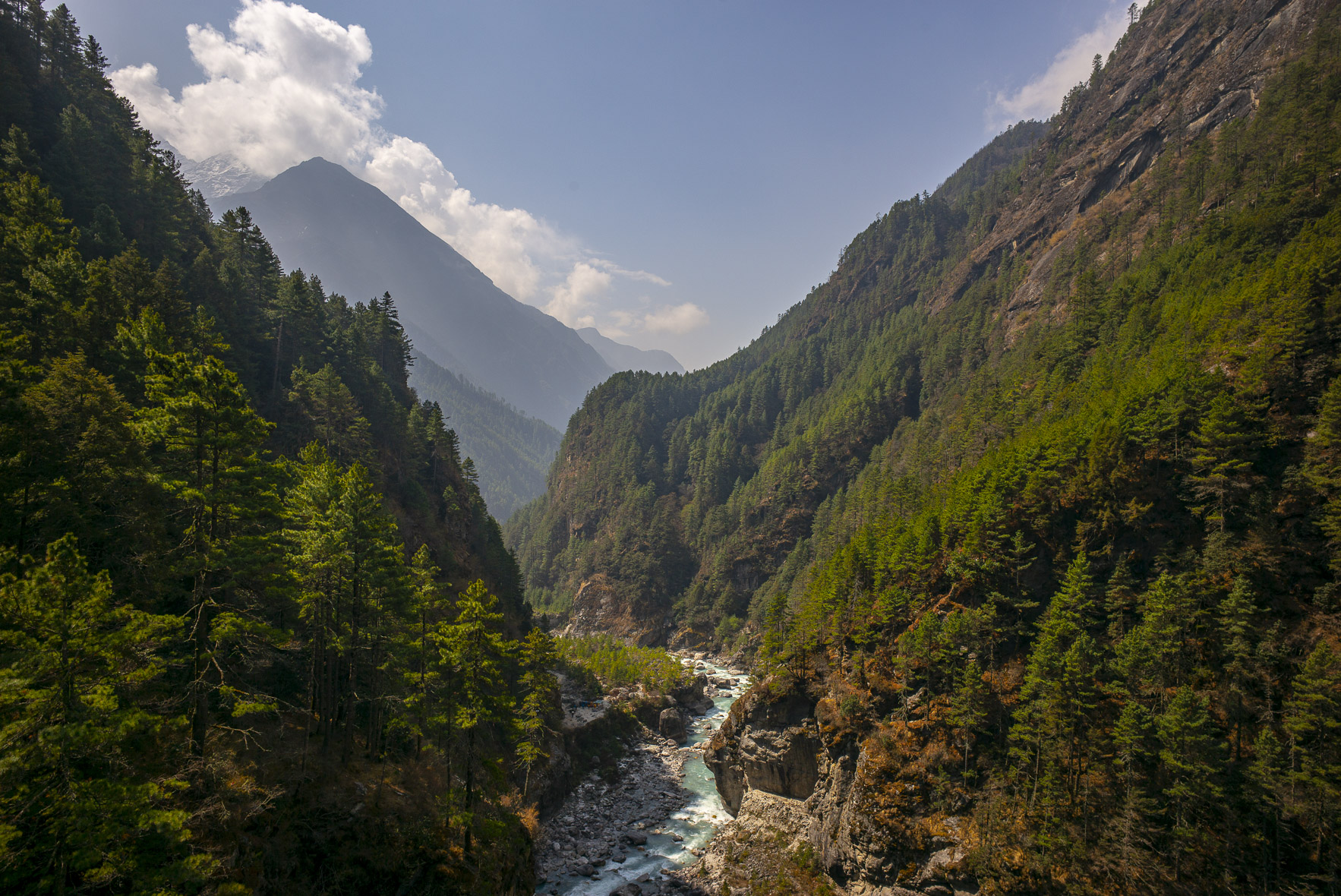 View up the valley of the Dhudh Kosi river. Namche lies to the left of the peak in the distance.

A first day of altitude begins, 800 mtrs to climb, to arrive at Namche Bazaar.
Begin: 2,850 mtrs
End: 3,440 mtrs
Distance: 6kms
Duration: 3hrs
Our camp on Monjo was nestled in amongst a forest glade, a café marks the entrance to the site, on a road that is busy all day with porters, hikers and locals going about their business. Behind loom mountains and as we begin our hike we enter the Sagarmatha National Park, encompassing Mt Everest itself!
This is our first real day of altitude gain, but first we descend 200mtrs back to the Dudh Kosi river, only to have to climb that again, and more. By the end of the hike, we have climbed 800mtrs of altitude, and arrived at an altitude that requires acclimatisation (over 3,000 mtrs).
My normal inclination when climbing is to pretty much hove at it!, lets get it over and just barrel up it as quick as possible. But you can't really barrel up 800mtrs of altitude gain, particularly when you are already starting somewhere in the vicinity of 3,000mtrs!
Taking a lead from our guide, we start to learn how the locals do it. "Slowly, slowly!", a slow, deliberate walk, conserving energy at a pace so that you do not get out of breath. Rest for a moment every few minutes, then continue. It is a technique that we will use for the rest of the journey up, and doing it enables me, and many of us in the group, to scale altitudes that we would otherwise not be able to achieve. In a sense it is like bicycle riding; where you adjust your gearing as the terrain changes to keep a constant cadence, letting your speed just fall out from a technique of constant energy use. Here in walking, it is the size and speed of your footsteps that change, but you feel the goal is to keep your expended energy a constant. Even though we walk "slowly, slowly", it is hard to talk, you quickly become breathless a combination of the effort and the lack of oxygen at altitude.
The scenery is spectacular, the river fast and flowing, an icy, light-blue froth of tumbling rapids over a rocky bed. We cross three suspension bridges, the last nearly 100mtrs above the river below, and it is from there that our climb, up 800mtrs pretty much begins.
Up and up we go, and yet, before we know it, we are at Namche, just in time for lunch, and our first substantial climb is accomplished. Peaks over 6,000 mtrs greet us as we enter the bowl within which the town nestles. Of course, our camp site is at the other end of town; which involves a climb of some tens of metres still! So, slowly, slowly, we trek from the Stupa marking the entrance of the town, up through the main streets to our camp ground. Made it!