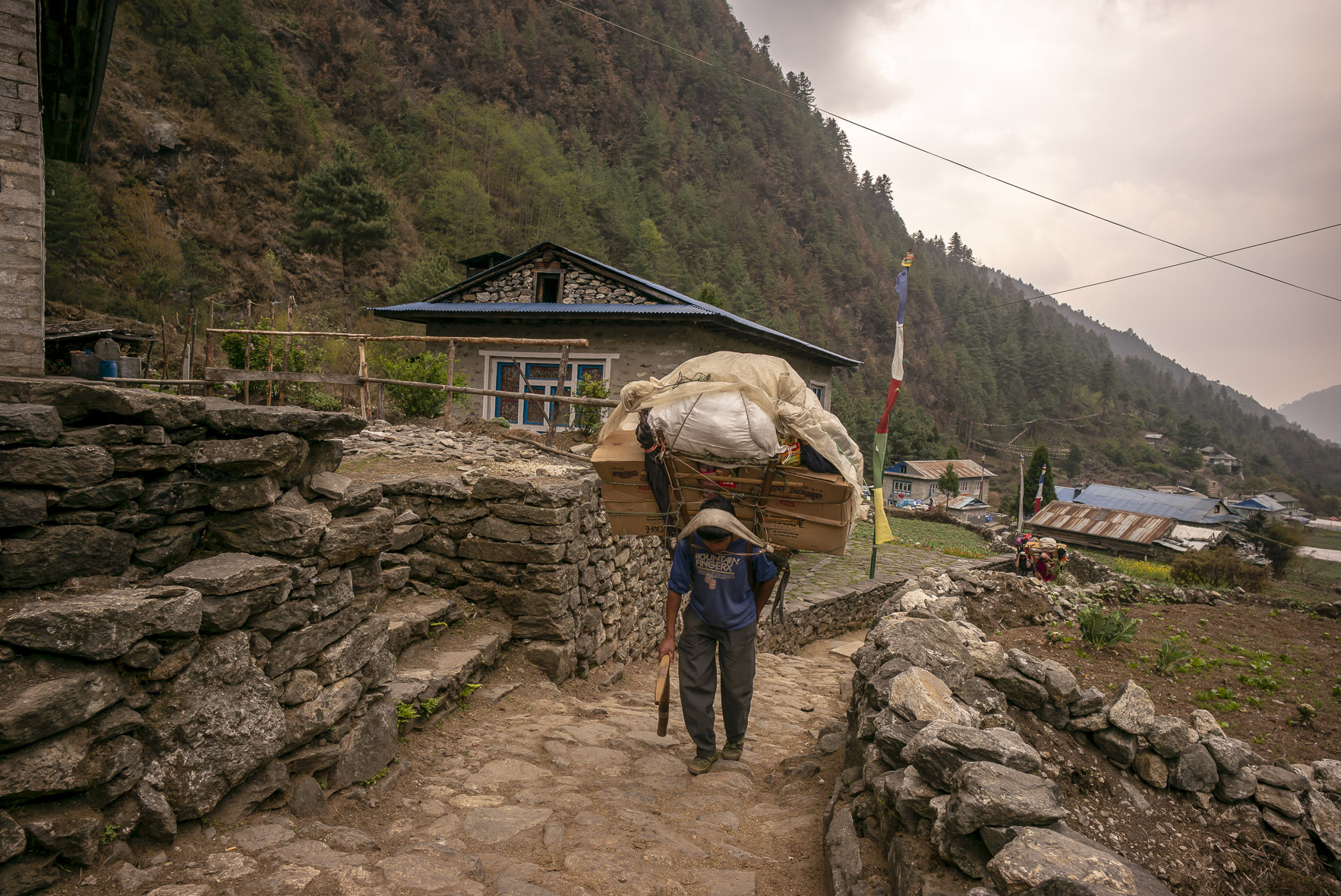 Porter carrying over 50kg, Ghat.


We land in Lukla, one of the world's most challenging airports, and its a short walk down to Ghat…
Begin: 2,800 mtrs
End: 2,530 mtrs
Distance: 6kms
Duration: 2.5hrs
Lukla is one of the most adventurous airports to land in. Firstly, there is no flat ground, anywhere. So, the airport strip is built on the side of a hill, you land going up hill, take off going down hill. Propellor planes, and it works quite well, mostly! The flight itself on our day was fine, good views of the hills and Kathmandu valley, the snow-capped range of the Himalayan peaks in the distance. Fine weather, flights are in the morning as planes go to and fro.
After the adventure of the flight, we begin hiking around 9am, a short hike to lunch. The mountains surrounding us are already steep, the valleys, carved by rivers are deep. The trail is very busy, groups coming and going, kids coming and go to school, adults on the various activities, porters, animals, and all make for a busy path. It is essentially a main road, because all land traffic here is on foot.
After lunch, a look around the area, down to the river, as we have descended to the bottom of this river valley, then looking around the town of Ghat, with its extensive Buddhist ornamentation. While only 10% of the population in Nepal is Buddhist, most of them live amongst the Himalayan ranges, so here you indeed feel like you are in a Buddhist country.
A pattern in the weather that would repeat for much of the trip emerges: a sunny, warm morning, hiking in shorts and t-shirts. The afternoon clouds over with the beginning of the monsoon and the temperature drops; cool and clammy. The nights are cold to colder. An easy day to begin.