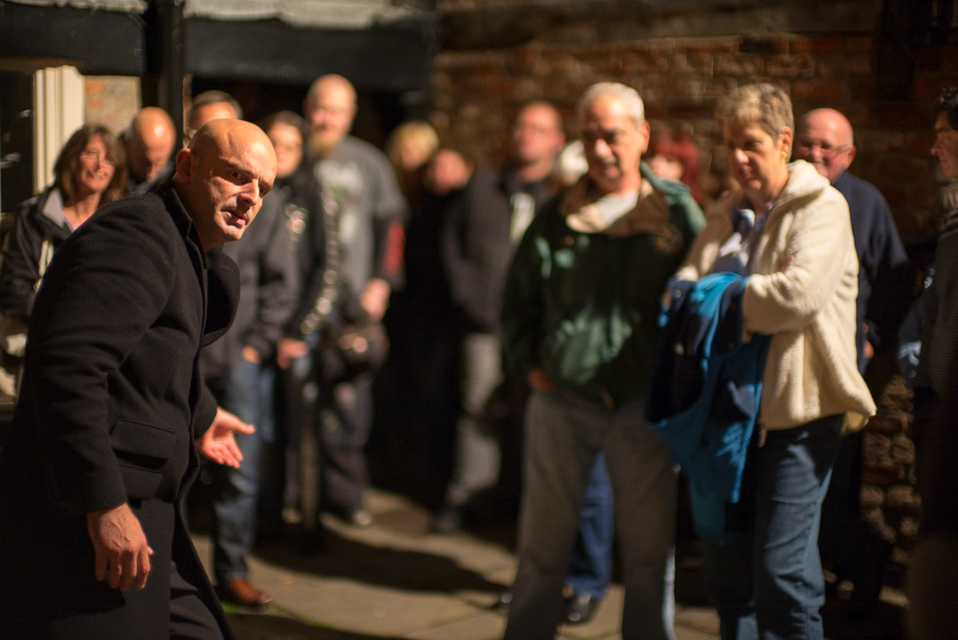 And in the dead of night, I awoke terrified, as a blood curdling scream filled the air
Ha! Ghost stories. I first went on a "Ghost Walk" in Bath a few years ago, and they have become quite a phenomena. They really are street theatre at its best, and I would definitely favour those that are led by a single dramaturgist, with no additional theatrics than a story well told.
This fellow was in York, on the "original and best" Ghost walk. You meet outside the King's Arm tavern, which floods in the high water of the River Ouse.
These ghost tours are in many cities and towns in England and at least in Edinburgh and Glasgow. The tales are of tragic circumstance; the one that this fellow is telling in the square is truly a sad one of accident and superstition, leading to the loss of more than a single life. I won't spoil his story, go see it.
The tales have a serious side to them; they tell of the down-trodden, the superstitious reactions of people kept in ignorance, and the difficult conditions under which so many lives are led. The tragic consequence of being born on the wrong side of the fence is an oft repeated theme. These are tales of society's outcasts, the exploited, the shunned. And becoming ghosts, the fear that we might find ourselves such a victim to circumstance.
There is a relishing of these tales, for the social truths and history they portray, camouflaged amidst the supernatural. We are truly barbaric, frightening, but don't let that spoil a story both good in the telling, and a story worth to be told.