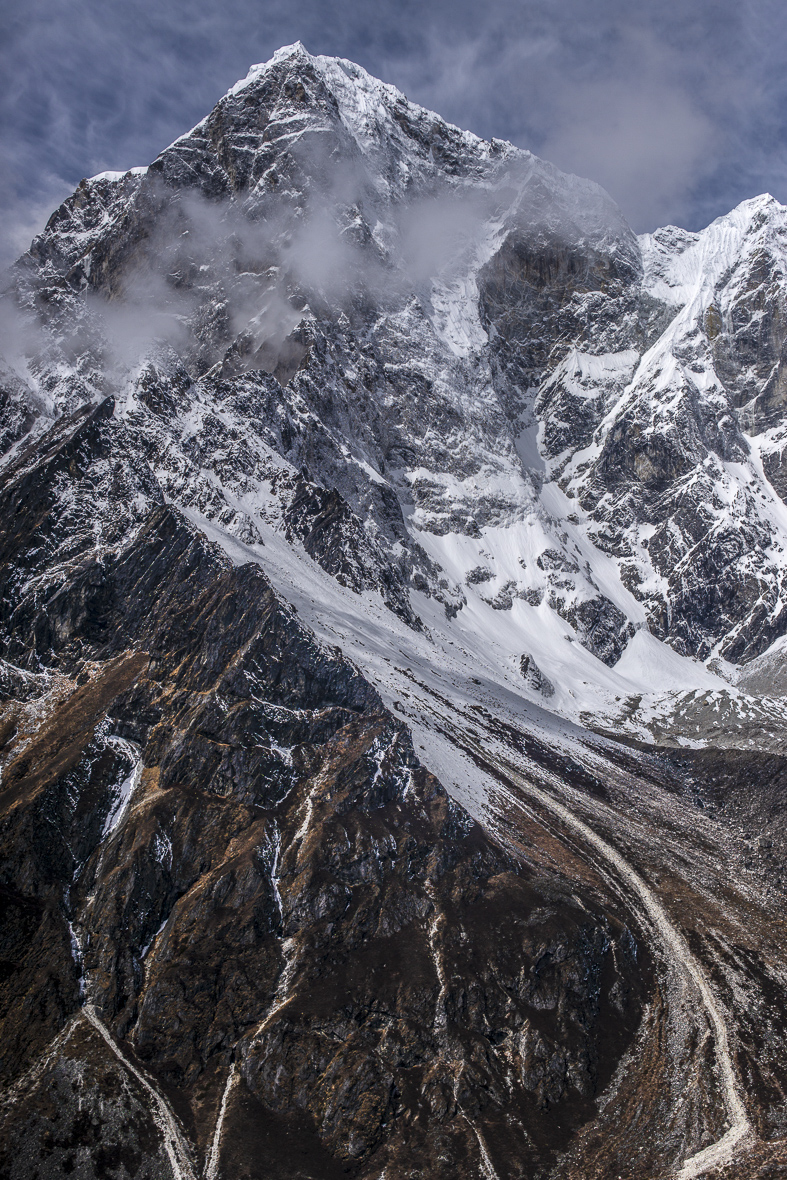 Cholatse peak, 6335mtrs, and glacier

After snow in the early morning, melting within an hour from sunrise, we have what would be the most spectacular day's walk of the trek.
Begin: 4,360 mtrs
End: 4,930 mtrs
Distance: 10kms
Duration: 4.5hrs
The mountain range on our left as we walk is capped by Tabuche Peak and Arakam Tse, both over 6,400mtrs. We then cross a ravine which marks the end of the Khumbu Glacier, which begins on the slopes of Everest, and climb up Thokla (Dughla) Pass and walk to Lobuche.
Lobuche is a bit of a dump, at least where we stay is, as we have left the tents behind now and are in lodges for the next two nights. Lobuche was used when one year's climbing expeditions went awry (due to bad weather), as a staging post for over a month. The town became notoriously polluted by many humans, well, mostly men, camping out. There is no sewerage, scarce food, and gastro ailments abounded. I'm not convinced the town has completely recovered, and we were cautioned to be careful with our hygiene. The toilets, etc… well, lets just say care was needed. Limited options, high-altitude, an owner who it would seem is less than attentive to details, made for a barely tolerable experience. Glad to see the back of it, but a necessary stop, with little other options, as we had already covered alot of altitude from Dingboche, and a night was needed before pushing on to the final destination.
After completing the walk, went over to view the glacier itself, which is mostly the ever-present dirt/dust with little shimmers of the blue-ice showing. Up an incline, we managed to just top 5,000 mtrs! As we top the glacier, it starts to snow, so now, for the first time, I am walking in snow. We knew this was a possibility, so dressed for it and, well it was fine.
Tomorrow beckons, so close now.